I recently noticed a shared item from Google Reader in my FriendFeed that I hoped would solve a major issue I've had with keeping up with things. I have Remember The Milk for storing my To Do items and Google Calendar for keeping track of dated events. I even have a slick method for capturing events and items via my desktop launcher. I should be on top of things. But there is a piece missing.
Google Calendar allows alerts via Email, Pop-ups, and SMS. This should work out great, except that I don't have SMS right now, I don't keep GCal open, and I don't have a method to notify me of new mail on my desktop. I have Remember The Milk set up to notify me via Google Talk of upcoming items, but there is still a chance I may ignore the new chat window (sometimes I get a little caught up in FriendFeed).
Snarl, in combination with Pidgin, actually provides me the best solution. I always have Pidgin running to handle various communications needs (Yahoo/AIM/GTalk/IRC/Jabber), so it makes perfect sense for my notifications system to center around it.
All I had to do was:
Install Snarl
Install the Snarl Extension for Pidgin, PidginSnarl
Make sure my GTalk Account in Pidgin was set for Email Notifications
And enjoy the Snarly goodness!
Here is a screenshot of the types of notifications I get from Pidgin now: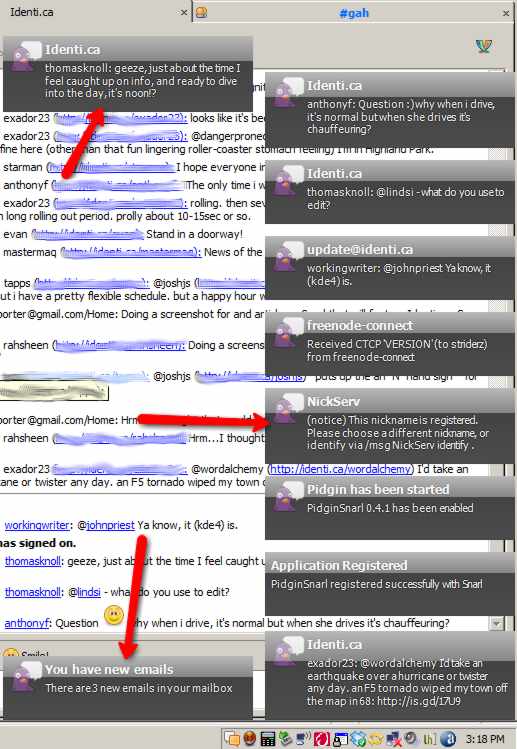 As you can see, I now receive notifications about new email messages, including reminders of how many new emails I have. As an added benefit, I can monitor Identi.ca and other messaging services without actually switching to the Pidgin window.
This means I spend more time on task and doing what I should be doing, and less time playin on Identi.ca. I no longer miss those important podcasts I keep adding to my calendar because I'll get a desktop notification. I will also recieve new IM's from Remember The Milk directly to my desktop.
Don't forget to check out the other extensions available at the Snarl homepage (FireSnarl, for instance).
Did I explain this poorly? Do you have any experience with Snarl or Pidgin that you would like to share? How do you handle notifications to make sure you don't miss things?