Microsoft project has come a long way since 1987. From primarily desktop-oriented scheduling software, to a more diverse set of PC and web-based tools for groups, teams, and companies. Microsoft Project 2010 is being touted as the biggest release of Project in a decade. There are 4 basic areas that have been enhanced to provide a better user experience and to make Microsoft Project 2010 a more useful solution.
Simple and Intuitive User Experience
Project Professional and Project Server both use the Fluent User Interface (aka Ribbon), based on Microsoft Office. This helps users discover new tools relevant to what they're doing at the moment.
Intuitive Excel-like behavior adds the ease-of-use of Excel to the power of Project's scheduling engine.
Powerful new views like the Timeline View and Team Planner.
Web-based project editing brings the power of Project to the web.
Enhanced Collaboration and Reporting
Built on SharePoint Server 2010 to bring the power of SharePoint's business collaboration platform with Project's advanced portfolio management. It also shares the same interface as SharePoint.
Easily create reports and dashboards on the fly.
Better time and status reporting.
Connect teams with SharePoint Sync to allow two-way round-trip synchronization of tasks and schedules. This allows team members to update their status on SharePoint and stay more connected as a team.
Unified Project ad Portfolio Management
Common experience across full PPM lifecycle, including centralized administration.
Flexible project capture and initiation so that organizations can also capture work that may not be part of a project yet.
Enhance governance through workflow.
Powerful portfolio selection analytics.
Scalable and Connected Platform
Extended interoperability with other Microsoft products like Exchange Server so that team members can report status directly from Outlook, for example.
Simplified Administration.
Rich Platform Services make it easier to connect with 3rd-party products.
Enhanced Developer Productivity through integration with Visual Studio.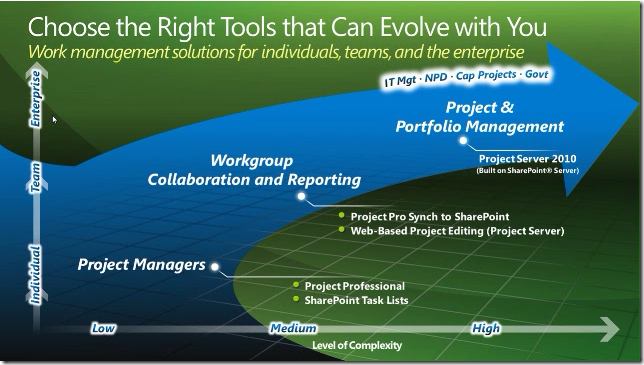 Microsoft Project 2010 builds on the Microsoft Office Project 2007 foundation with flexible work management solutions and the right collaboration tools for occasional and professional project managers, and includes a pathway to more advanced project and portfolio management capabilities as business needs evolve.
The project management market is still growing despite the recession. Microsoft Project 2010 seems to be coming at the right time, many people will be able to download cheap Microsoft office. Project management software can help an organization become more profitable by giving them an idea of where they might be wasting resources. It's also easier to see what areas are lagging and serves to increase individual productivity. With it's enhanced user interface and tight integration with other Microsoft products, it will be interesting to see what effect this new release will have on existing web-based project management solutions.