I have a Facebook Fan page, but I rarely post there because they make it so difficult to do so. There is no bookmarklet that facilitates this action. I'm sure there is some obscure Facebook application that might help with this, but I haven't found it yet. My only recourse has been to actually visit the page and cut/paste a link. Very time consuming and inefficient if you're working at the level I am when it comes to social media.
I came across a discussion on piping reader shares into Twitter using Reader2Twitter. This got me thinking about Hootsuite's RSS/Atom feature, which lets you pipe a feed through Hootsuite and out to the social networks you choose. Rather than have to deal with yet another 3rd party web application, why not just use an existing feature in an application I already use daily?
Adding Your Facebook Fan Page to Hootsuite
The first step is to connect your Facebook Fan Page to Hootsuite. I actually stumbled across this by accident in simply trying to get my GReader shares into Twitter. Note that once you have done this, you can easily post updates to your Fan Page from within Hootsuite on a per-update basis, making it simple to keep your page updated with fresh content for your fans.
Click Settings at the bottom of Hootsuite
Click the Social Networks tab and then Add Social Network on the right
In the popup, choose Pages under Facebook to connect your page to Hootsuite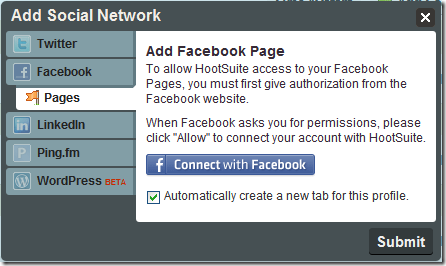 Adding Your Google Reader Shared Items Feed
Adding your Shared Items feed is simple. The hardest part is finding the actual feed link. I found my Shares page from my Google Profile (your Google Profile is here). It should be listed as one of your websites. You should see the actual feed link on the right side of that page, just copy it. Alternately, you can go into Google Reader, click Shared Items on the left, and then show details on the right. The feed URL should appear, right-click and copy it.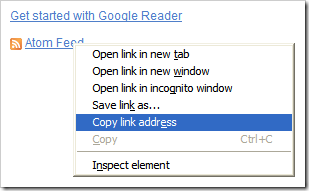 Back in Hootsuite and under Settings choose the RSS/Atom tab and Add New Feed. Paste your shared items feed URL into the first text box and decide how often you want the feed checked and how many tweets you want Hootsuite to send out each time. Be conservative here. If you send any more than a couple of tweets out at a time, you will look like a spammer or a n00b. Make sure you choose which accounts you want updates from this feed sent to at the bottom. Check the screenshot below to see how I have mine setup.
If you need any further assistance or clarification, please comment here. I would appreciate your feedback and would be happy to help. Also, if you have a better or alternate way of doing this, I'd love to hear it.