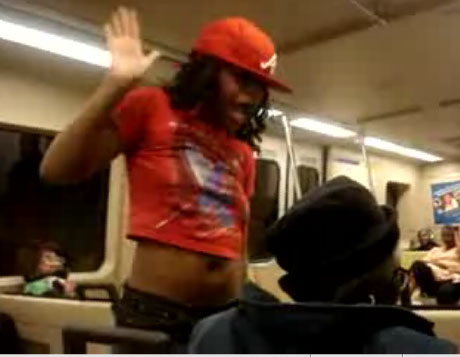 A little while ago, I had a job interview downtown and decided to take the train. As I sat there looking out the window and listening to Day 26 on my iPod, I caught some erratic movement from the corner of my eye.
It was some poor soul who may have been begging for change, but was definitely making a lot of noise and carrying a pretty strong scent about him. I couldn't really understand what he was saying as I promptly turned up my music, but I did notice how everyone else reacted.
Many people took a sudden interest in the stained and somewhat tattered carpeting. Others, forgetting this was the route they took daily, began staring out of the nearest window as if the train had suddenly taken flight into the stratosphere.
This man's appearance immediately made me think of how some people treat social media. I'm sure that if any of these people could have immediately unfollowed this man and silenced his babbling, they would have. You can't unfollow people in real life, though. This man had interrupted the normal flow of things. It made people feel uncomfortable and those he approached probably felt violated.
How many people have you seen on Twitter that produce just such a reaction from others? How often have you been scanning your Twitter stream and noticed an update that just stood out from the others? Maybe even one that made you wrinkle your nose in disgust and start hunting for the UNFOLLOW button. Maybe you've never noticed a tweet like that.
Maybe the crazy person on the train is You.